Happy first day of spring, everyone! I always get so excited when I see the first daffodils of the year, it's my sign that spring really is right around the corner, and after this long winter, that's pretty good news! What's most refreshing about spring to me, is that after months of gray skies the world is full of color again! Bring some color onto your coffee table with these adorable Button Sugar Cookies!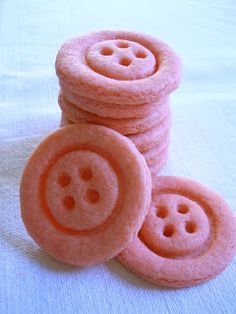 BUTTON SUGAR COOKIES
INGREDIENTS
2 cups all purpose flour
1/2 tsp baking powder
Pinch of salt
4 oz (1 stick) unsalted butter, at room temperature
1 cup sugar
2 eggs
1 tsp pure vanilla extract
Food coloring of your choice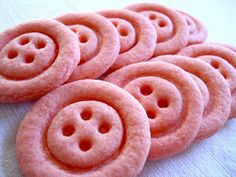 DIRECTIONS
In your mixer, combine flour, baking powder, and salt. In a different bowl, beat together butter and sugar for a couple of minutes, then begin adding in eggs and vanilla. Gradually mix this in with the flour mixture, and add your food coloring at this point too. If you are using liquid food coloring, add as many drops as you need until the dough gets your desired color. (If you are making different colored buttons, have separate bowls for each color.) Mix until dough is smooth and all color is incorporated.
Wrap your dough in plastic wrap and let it chill in the fridge for a couple minutes. Take your dough and roll it out into a disk like you would a sugar cookie dough. *GREAT TIP* for rolling out your dough – Don't bother with flouring your surface, instead, lay down a large enough piece of plastic wrap on your rolling surface, put your dough on it and squash it down a little, and cut another piece of plastic wrap and lay that on top. Now begin rolling your dough out, in between the two layers of plastic wrap. It will be so much smoother, you won' make a mess, and everything won't be as sticky!
Using a round cookie cutter, cut out your circles. To add the inner ring into the button, you will need either a smaller cookie cutter, or any round object you may have in your kitchen, you could use the rim of a glass for example. Then, poke four holes (they will need to be pretty wide as they close up a little while baking), I actually used the bottom of a birthday candle for this because toothpick holes were just way too small! (You can make holes right through the cookie so you can thread it on some thin ribbon once the cookies are baked, if you like, or just press the holes into it like I did)
Preheat your oven to 350 deg F and place your cookies on baking sheets lined with parchment paper. Bake for 7 – 8 minutes (watch the cookies carefully, baking time may vary depending on your oven).
And that's it! These cookies are adorable and will make great party favors or little gifts! Happy baking, everyone!