Hey Everyone! I have something a little different to share with you today! Since I spend the majority of my time working with, thinking, talking, reading and daydreaming about beautiful interiors, not just because it is what I do for a living but also because it's one of those things that feeds my soul, I wanted to share a little bit of it with you today! I created these five Living Room mood boards, each showing a distinctly different look for the same space, to hopefully give you some inspiration if you're re-doing a space in your own home, are looking for a color palette to use, or just love looking at beautiful interior pictures like I do! Whether you decide to give your living room a simple update by using Yellow Cushion Covers and replacing your old coffee table, to redecorating the whole room, it is completely up to you. As long as you like what it looks like in the end, that's all that should matter. You might also be interested in checking out these modern living room furniture sets to give you a better idea of what else you can do, and where you can get the furniture for your living room.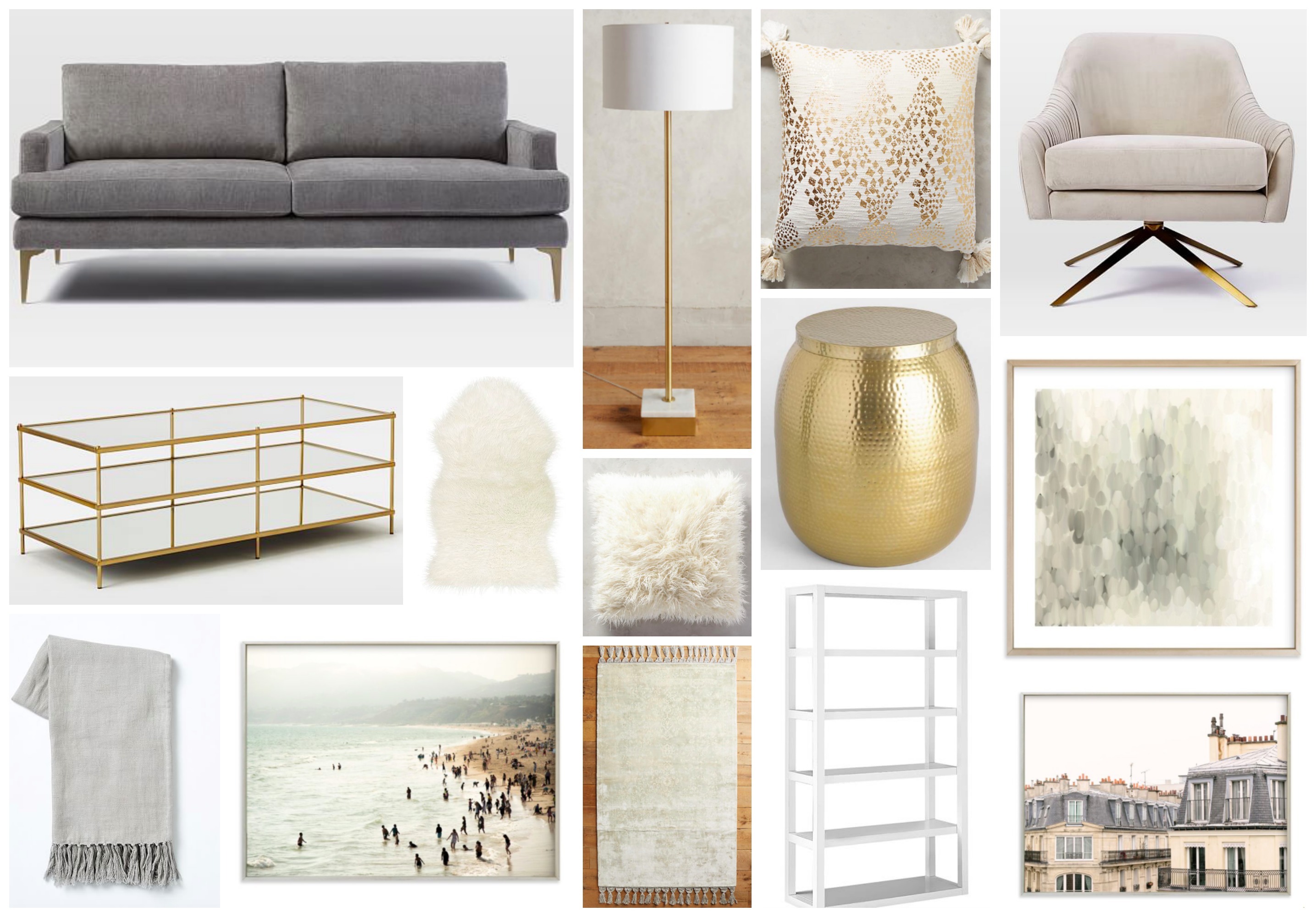 Calming Neutrals – If I had to pick one of these looks that my eye is instantly drawn to, it would be this one. While I love bold, bright, saturated colors, I love a good neutral color palette, especially as the base for a room. When the big pieces in your space (your sofa, rug or any large piece of furniture) are neutral, it not only creates a balanced template for you to work with, it gives your space flexibility; this means that you can easily add and mix & match accent colors within your room without them interfering with your neutral basics. This is especially good if you like to re-decorate frequently… you know that whatever color you bring in, whether for seasonal decorating or any other time of the year, it won't compete with your neutrals! I love the warmth that pops of gold add to any neutrals, but more on my love for and everyone's current obsession with gold later!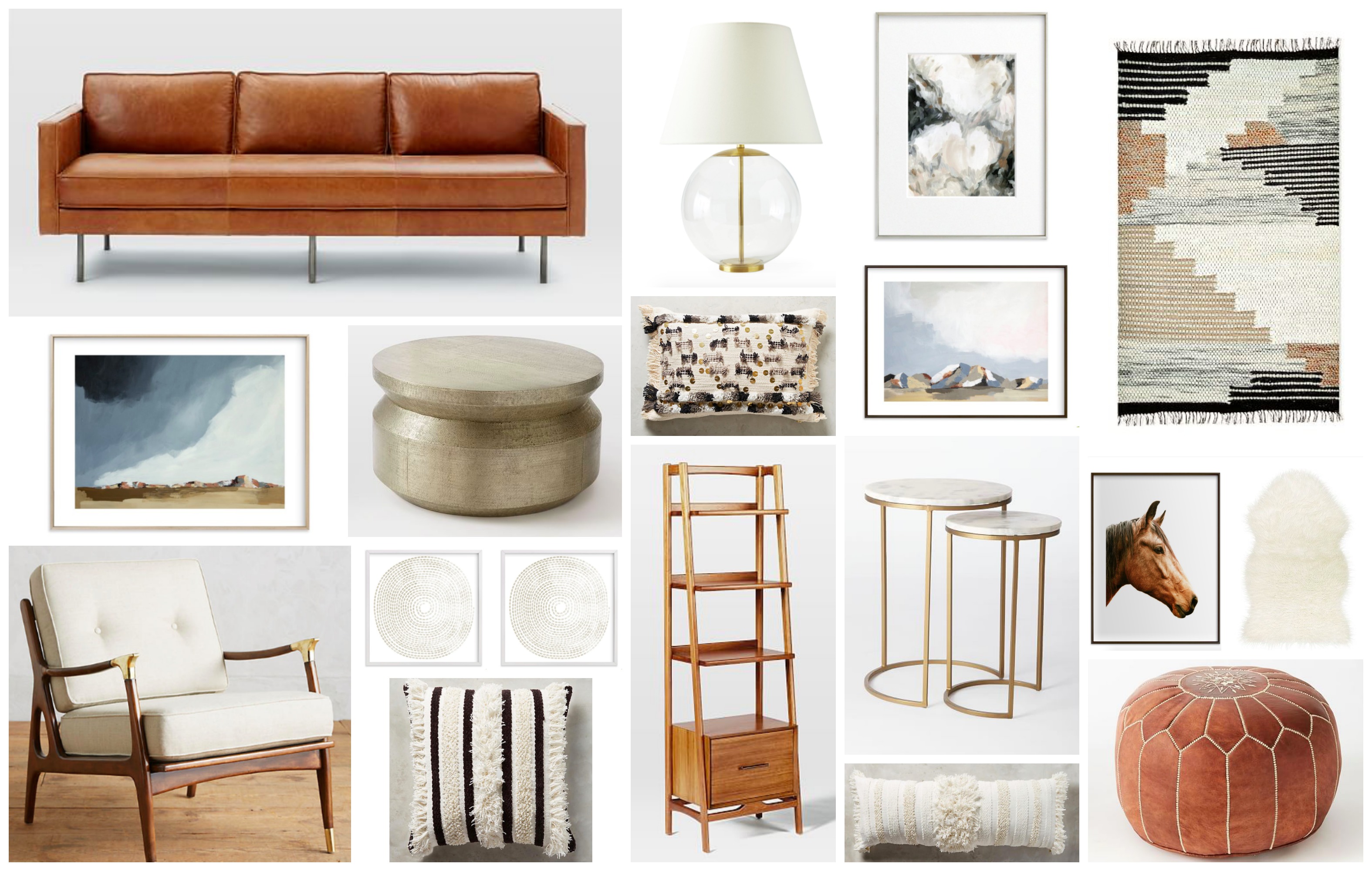 Textured Browns – I love how much variation and visual interest you can create in a room just by layering textures. People often think that you need to mix lots of different colors to make a space look interesting, but there is so much you can do within a fairly limited color palette just by using a variety of materials and textures. Layering these creates such a warm, lived in look, especially in this cozy brown color palette. My favorite piece in this inspiration board is the rug (top right corner), because it mixes the browns, blacks, whites and grays in such a beautiful way, inspiring this whole color palette. Whenever I'm thinking about a room, it's often a piece of furniture, a rug, a pillow or piece of art that inspires a color palette and acts as a springboard for more ideas. You can draw so much inspiration and information from just one object!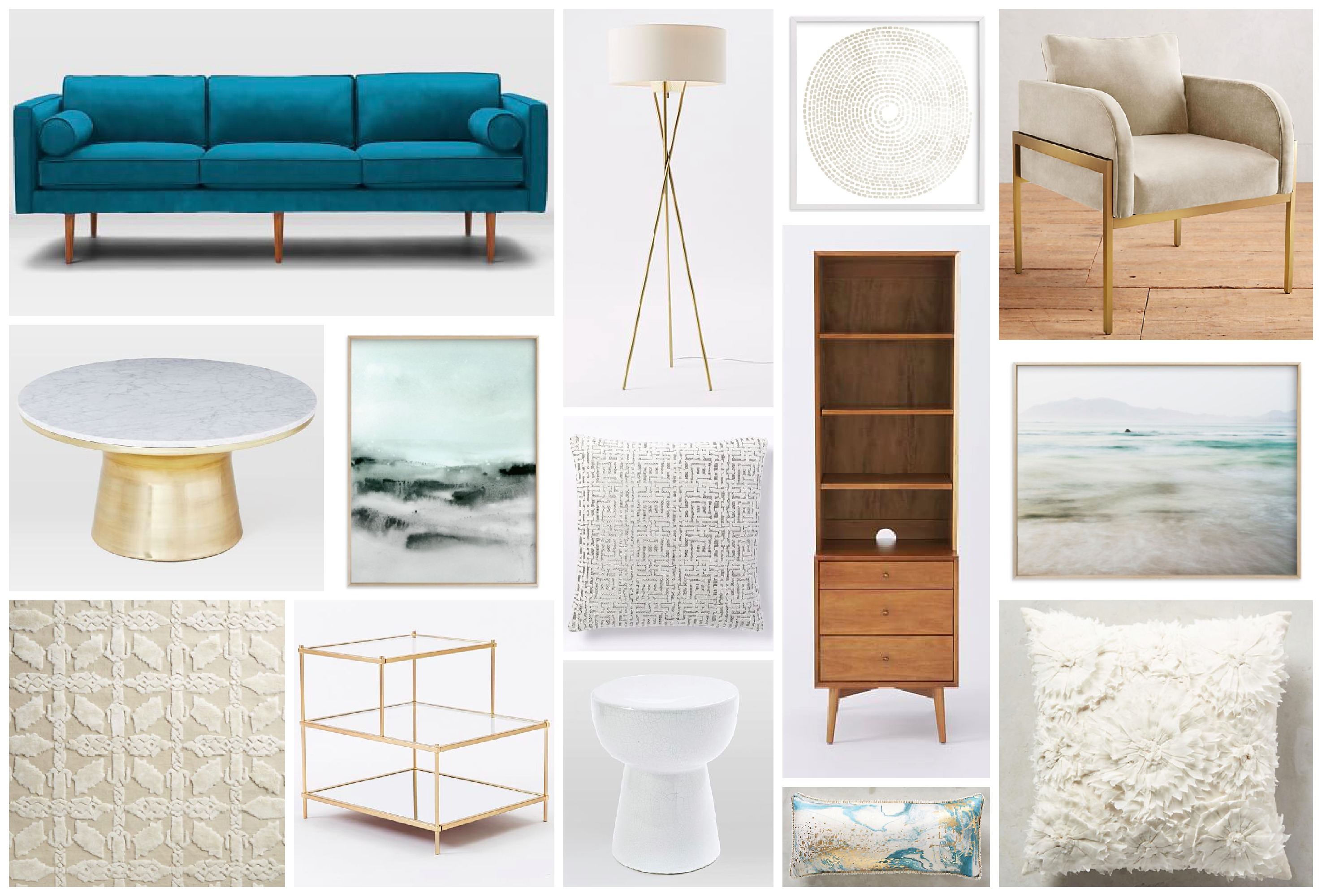 Cool Blues – Blue is such a great color to work with, one of the reasons being that it works beautifully with both a warm and a cool color palette. Color is such a complicated and complex thing that it's hard to condense its value and substance into just a short paragraph, but when it comes to color versatility in a space, blue (of which there are obviously hundreds of versions!) is one of the best colors to go with. Pair it with whites, golds and sandy tones like I did in this Living Room look for a cool, sophisticated look or tone it down with warm greens, beiges and browns for a warm, earthy one… the possibilities are endless!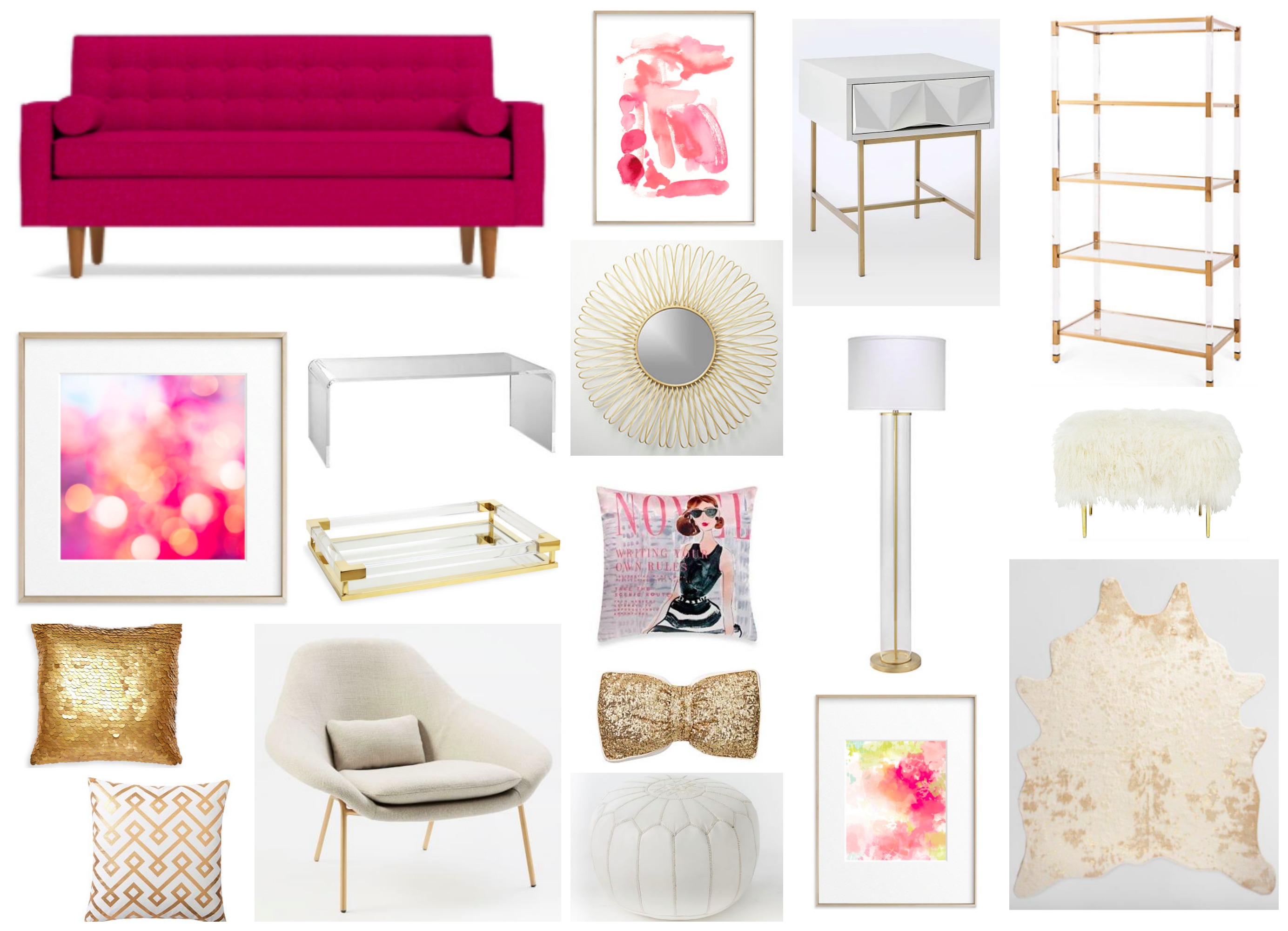 Glam Pinks – This is another color palette that immediately speaks to me, because I love the color pink. Not the cheesy, kitchy pinks often associated with 90's Barbie products, but the deep, rich pinks that make a space look feminine and sophisticated. I love the energy the color exudes and the fact that it feels both fresh and young, yet also timeless when paired with the right colors and done in the appropriate way. I built this inspiration board around the striking deep pink sofa, pairing it with lighter, more neutral pieces like the acrylic coffee table or bookcase and carrying the pink on throughout the room in smaller doses like in the artwork or accessories. This way, the bold color doesn't become heavy or overwhelming, and you won't get tired of it quite as fast!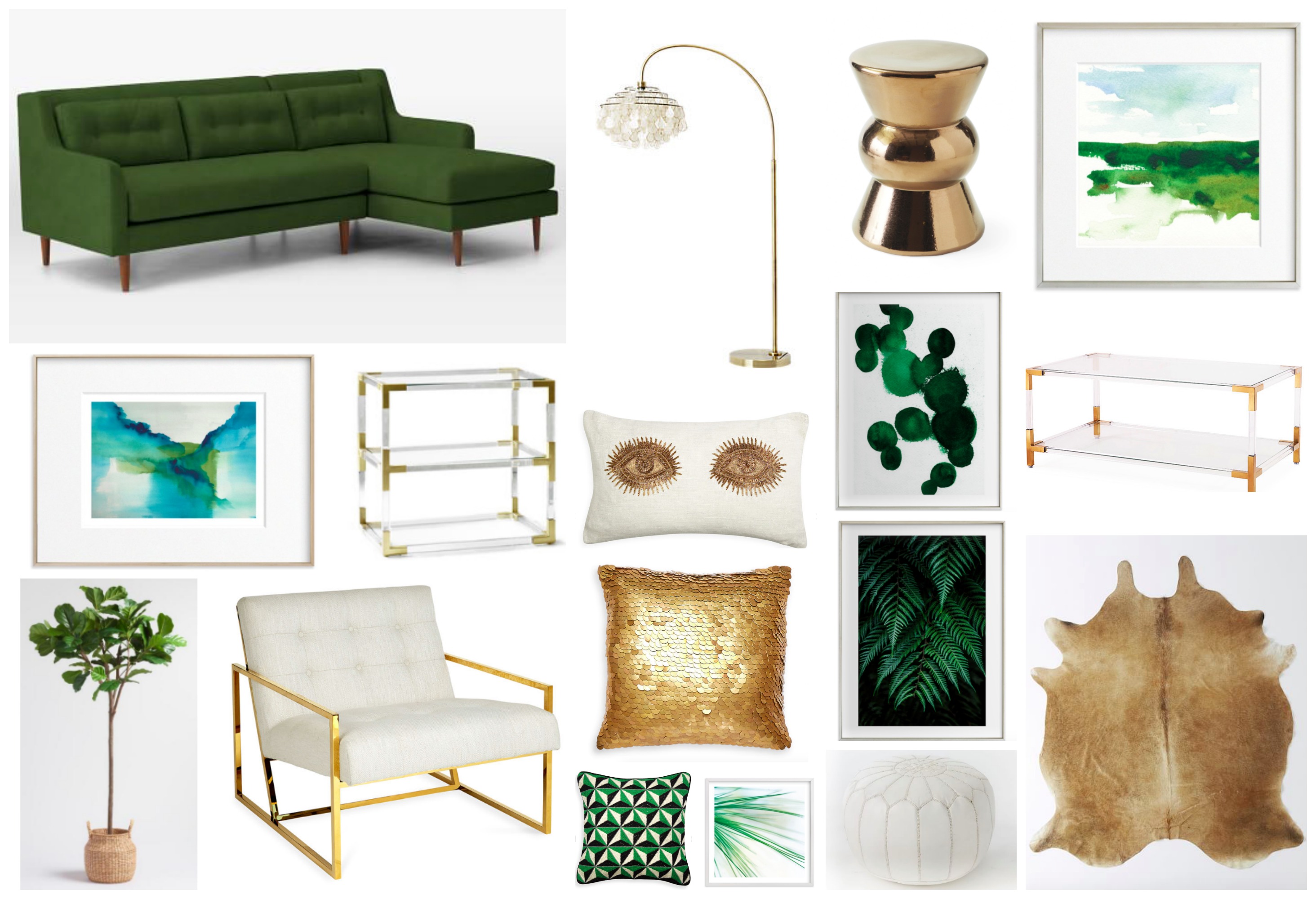 Dramatic Greens – Color is such a great way to add drama to a room, and this deep green which has an almost jewel like tone, is a perfect example of that! If you want to give a room a dramatic, sophisticated look this is the formula to use – a deep color popped with a highly contrasting one (like black & white in this case), paired with cool, shiny metallics! And boom! Such a striking, eye-catching look! While we are on the topic of eye-catching, my friend was telling me about how much money she saved by doing some energy comparison for her home energy. If you're interested, compare energy now.
(*Note – All products & images via one of the following: One Kings Lane, Minted, West Elm, Anthropologie, Kate Spade, Jonathan Adler, World Market, Wayfair, Serena & Lily, Houzz, Pottery Barn, Restoration Hardware, CB2)