Hey Everyone! I hope you are all staying safe and healthy (and sane!) wherever you are. We have a full week of staying at home and social distancing behind us, and besides doing all the baking in the world these days (because we eat like four desserts a day now…), this has been a good time to get caught up on all those lingering house projects that I never have time for. We actually did this little entryway makeover a couple of months ago and these pictures are from Christmastime (hence the pine wreath on the door) so this post is long overdue!

Last fall, we bought a 1920's colonial in the New Jersey suburbs outside of New York City and little by little we've been updating it and making it our own. There's nothing I love more than a good house project, and this place sure has provided a lot of them. I thought I would share this entryway makeover with you first, because it's one of those projects that's pretty quick and easy as well as budget friendly, while still creating big impact since this is the first space you see when you enter the house! Before, the space felt like a dark box- there was dark red trim around everything, the wood paneled walls were painted gray and the dark oak door was so overpowering. My vision was to make it light, bright, functional and welcoming, and I think we did just that! It will never cease to amaze me what a can of paint can do to completely transform a space – if you're ever looking for a quick and inexpensive way to update something – paint it! On a side note, what do you call a space like this – a mudroom? Entryway? Vestibule? I've heard it called so many different things, let me know what you call it!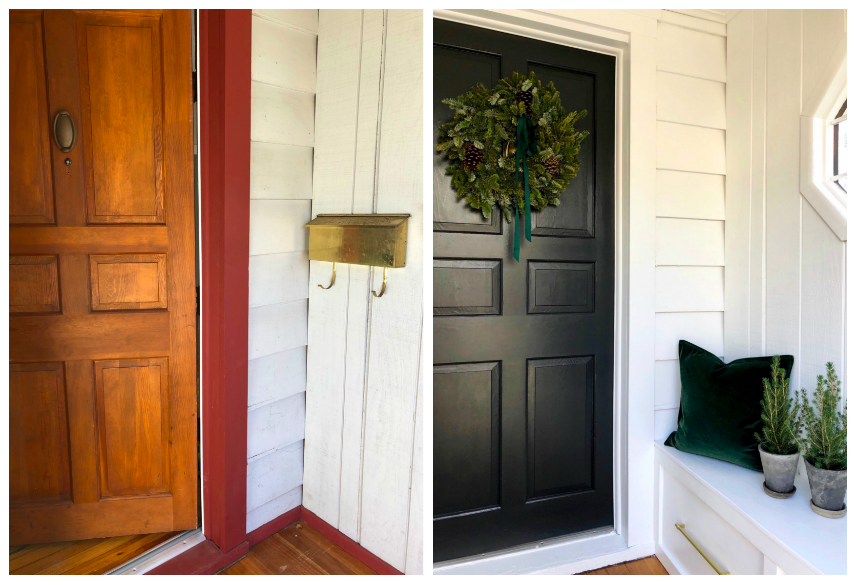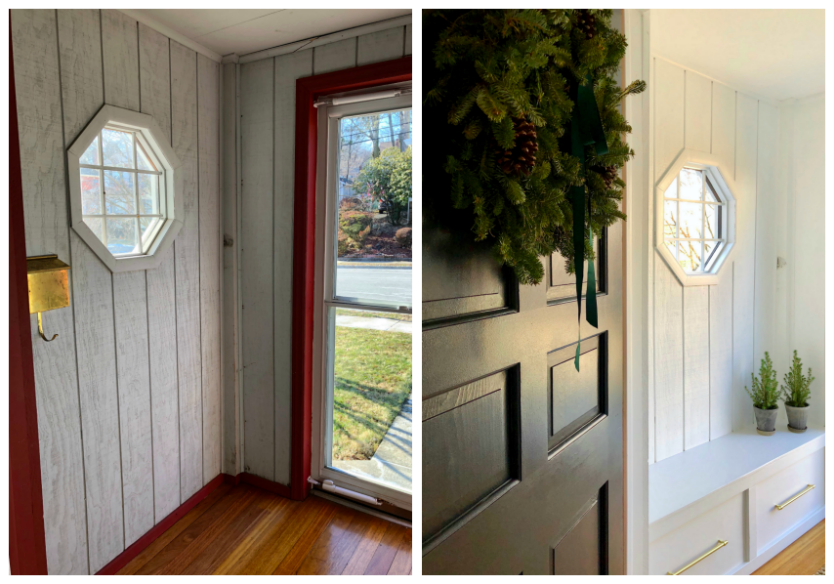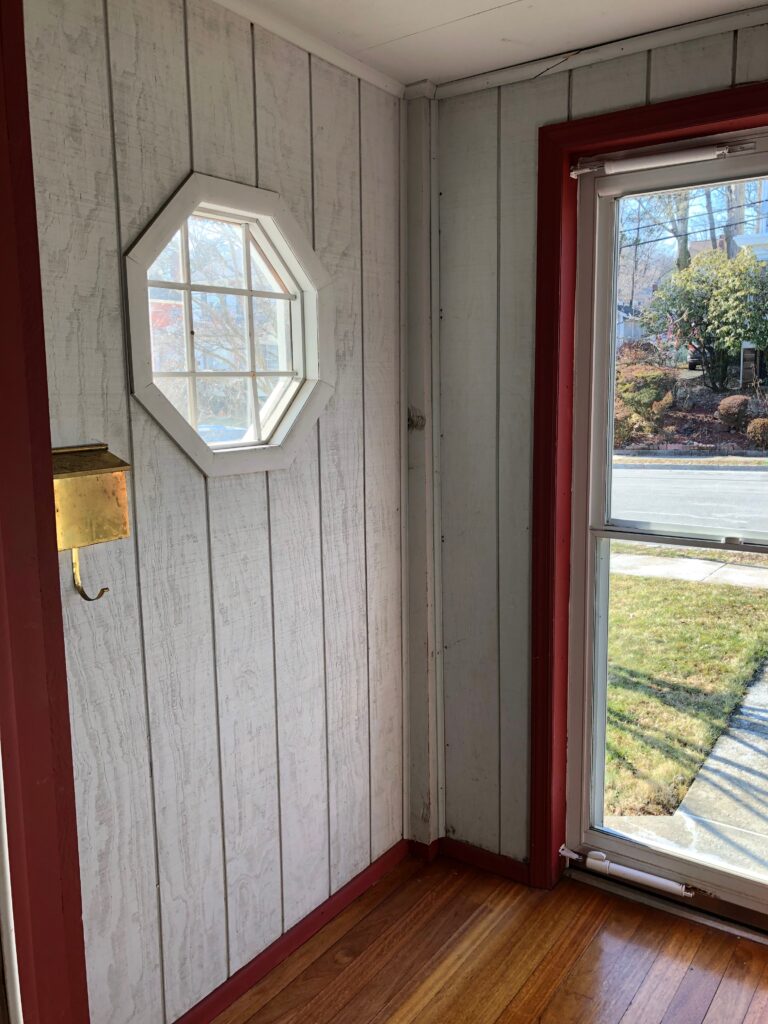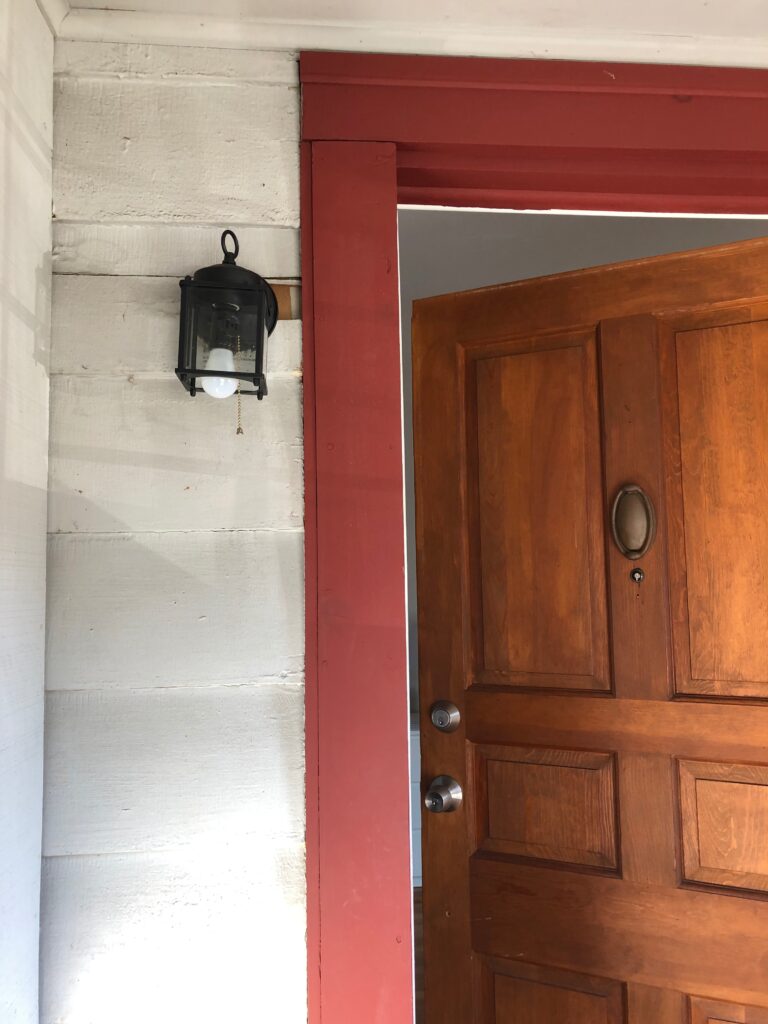 The first step was coming up with an overall look. I knew I wanted to create some sort of built-in bench and to really brighten the space up. Deciding on a color palette wasn't too hard because as I mentioned, our home is a 1926 colonial that's pretty classic in style, so I wanted to go with a classic black and white look in here. Because the entryway felt so dark before, I went with a super bright white paint color (Extra White by Sherwin Williams) in a semi-gloss finish for all the walls, trim and the built-in bench, and the difference that made was unbelievable! Instantly lighter, brighter and cleaner! The black door (Black by Benjamin Moore) really elevated and updated the little space – again, such a difference.
As for the built-in bench, I drew a little sketch of what I wanted it to look like and my husband brought my vision to life, as he always does. And then we said those famous last words… "This shouldn't take long!" If you've ever lived in or owned an old home, you will know that nothing is ever standard size, no measurement is ever what you need it to be and there will almost always be a floor that's not level or a wall that's not quite straight, making every project just a tad more complicated than you had expected it to be. Endearingly, we call these things "old house charm" HA! Because some of these things were an issue in this entryway, I don't have a tutorial with exact measurements here, as there was a lot of improvisation (and caulk!) and a lot of having to make up for some of the odd measurements in the room, but you can get the gist from the progress photos below.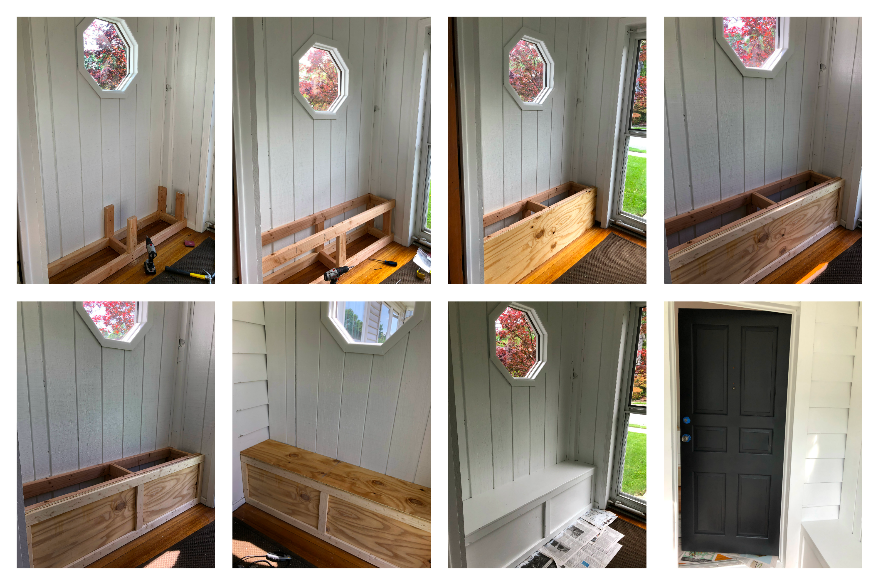 The last part was adding the finishing touches – I added brass drawer pulls to the bench to create a faux drawer look, mainly because the whole wall with the bench was too white and it needed some sort of visual detail to break all that up. We added brass coat hooks to the opposite wall, a vintage looking brass and black sconce next to the door and used a jute runner for some warmth and texture.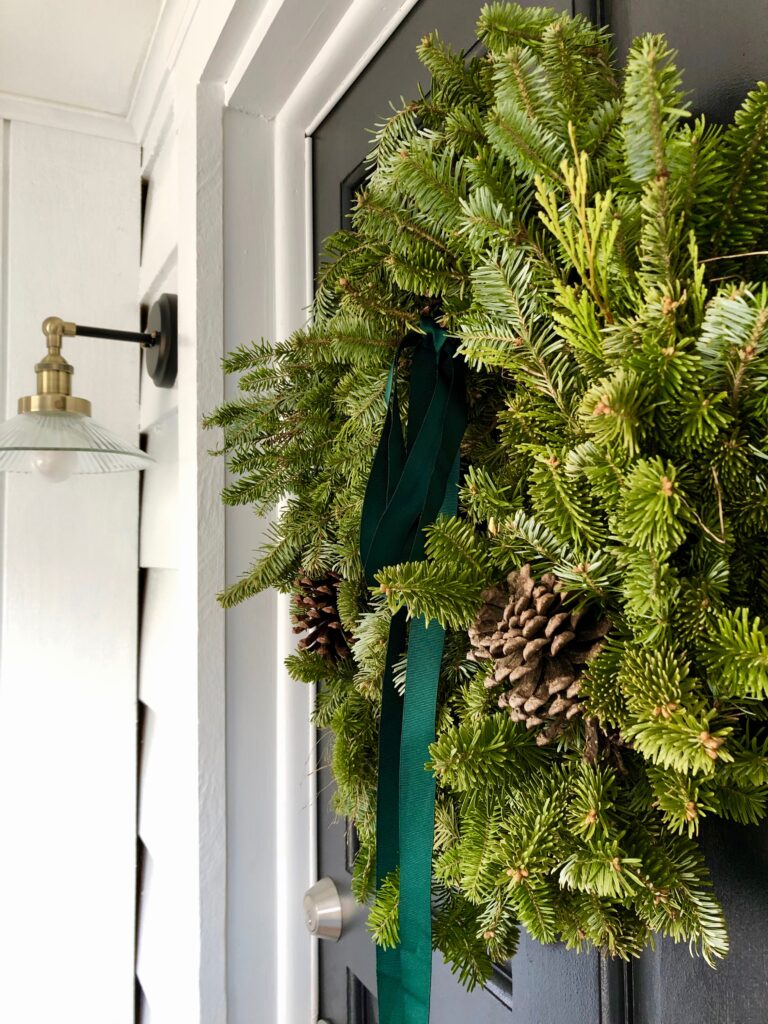 SOURCES
White paint for trim, walls and built-in bench: Extra White by Sherwin Williams
Black paint for door: Black by Benjamin Moore
Black & Brass Wall Sconce
Brass drawer pulls
Brass coat hooks
Jute runner (2'6″ x 4′ size)
Materials for bench: 2'x4′ wood planks & piece of plywood: both from Home Depot