Happy New Year, Everyone! I hope you all had a great Christmas and a wonderful holiday season! As always, it flew by too quickly… and now the task of taking down the tree and putting away all the decorations is waiting for me. As sad as that makes me, I'm ready for this new year, for a fresh start and for a little bit of a detox after all the holiday eating! Is it too much of a cliche to start the new year off with a salad recipe?? I figured that a lot of people's new year's resolutions probably include something about healthy eating, so I thought some salad inspiration might be a good way to start 2015 off! I love good salads, and this one is filled with so many good (and good for you) ingredients; lots of greens that contain iron, hearty chicken and tabbouleh, creamy avocado, juicy pomegranate and crunchy almonds – a perfectly satisfying salad, and a most delicious way to kick off those new year's resolutions!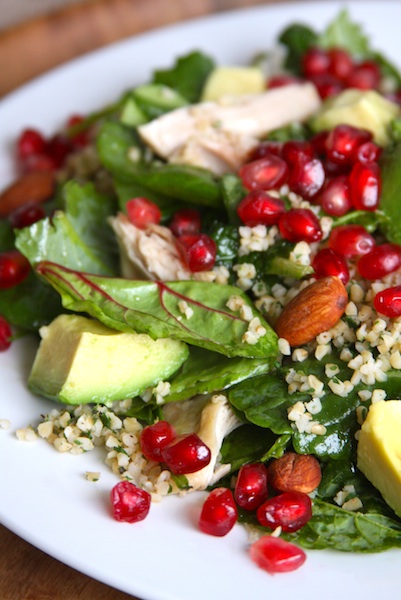 YOU WILL NEED
Salad greens (I used a mix of baby kale, arugula & baby Swiss chard)
Shredded chicken (leave out to keep salad vegetarian)
Quinoa, Tabbouleh or Long Grain Wild Rice
Pomegranate seeds
Almonds
Avocado
Vinaigrette
DIRECTIONS
Toss your salad greens with your vinaigrette (I usually make a vinaigrette using olive oil, balsamic vinegar, salt, pepper and honey). Cook the tabbouleh (or quinoa/wild rice) according to package directions (either serve warm or cold in the salad) then add it to the salad, along with the rest of the ingredients!