Hello Everyone! I hope you're all having a great summer! Sorry it's been quiet around here for the past couple of weeks, life has been busy to say the least! It's been a crazy hectic summer this year, between traveling, new jobs, looking for and getting ready to move into a new house… all exciting things, but overwhelming at the same time! But since I'm having a quiet Sunday afternoon at home today, I thought I would share this sweet treat that I'm having with my cup of tea right now with you! This year was the first time in a long time that I was looking forward to the summer. Last winter was so long and cold that I couldn't wait until the day I could trade my winter boots for flip-flops and get in my car without having to get mountains of snow off of it first! But now, a couple of weeks into the heat and humidity that we get here on the East Coast, I remember why I always dread this time of the year, and why I usually spend the summer impatiently waiting for fall to come already… That sort of explains this recipe. A craving for fall. These Spiced Applesauce Muffins are basically a taste of fall in a delicious little package! They're light and fluffy because of the applesauce, and have that distinct fall taste and smell thanks to all the warm spices. I usually bake muffins or some sort of quick bread on Sundays, so that I have something that's easy to grab on my way out the door in the morning for the rest of the week. If you're as anxious for fall to come as I am, you will love these! And if not, save the recipe for September! Here's how to make these…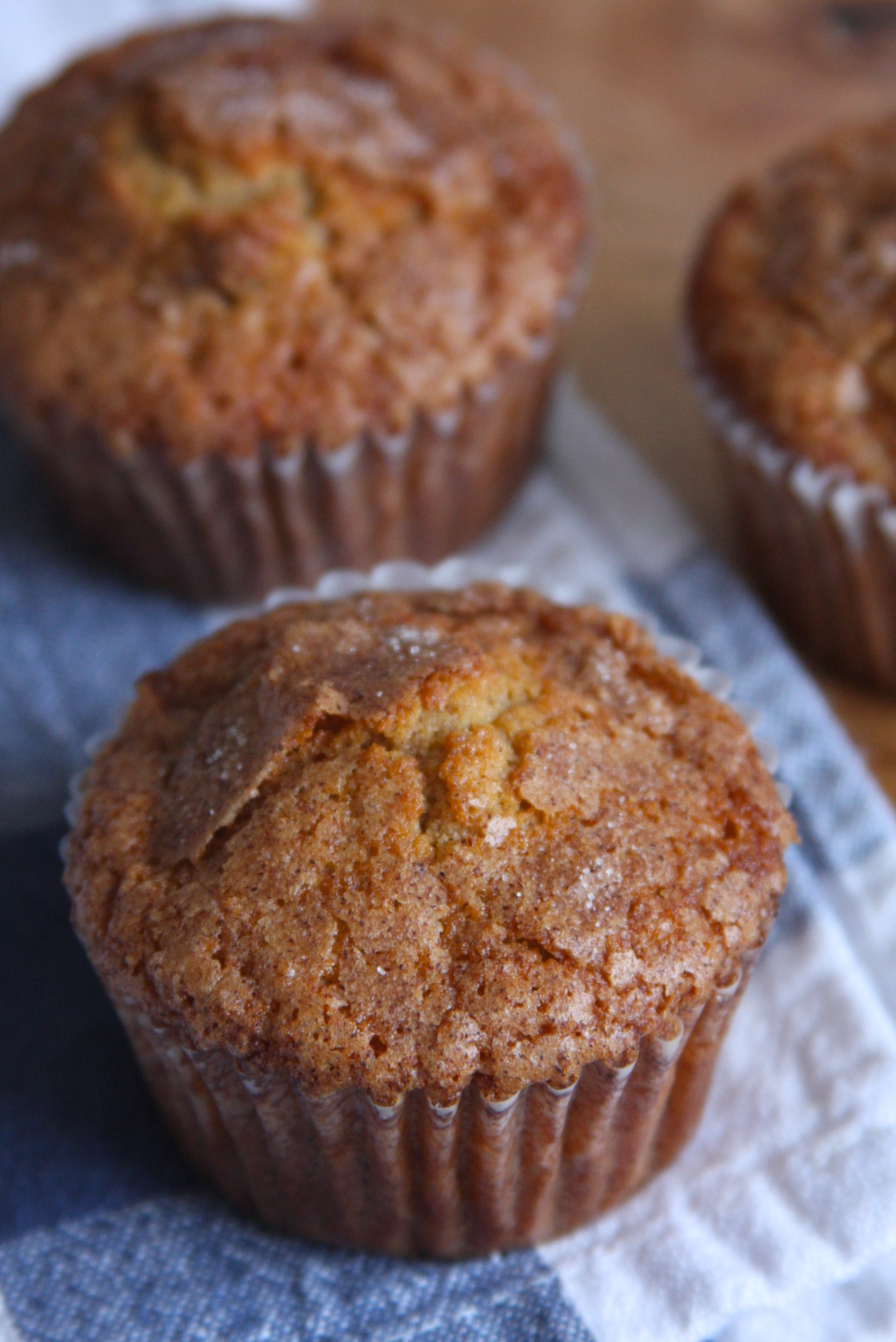 SPICED APPLESAUCE MUFFINS
*Makes 12 muffins*
(Recipe adapted from Epicurious)
YOU WILL NEED
MUFFINS
1 1/2 cups all-purpose flour
1 1/2 tsp baking powder
1/2 tsp baking soda
1/4 tsp salt
1/2 tsp ground cinnamon
1/2 tsp ground allspice
1/4 tsp freshly grated nutmeg
2 large eggs
1/2 tsp pure vanilla extract
1 cup light brown sugar
1/2 cup (1 stick) + 3 tbs unsalted butter, melted
1 cup applesauce, unsweetened
1/2 cup chopped walnuts or pecans
TOPPING
1 tbs granulated sugar
1/2 tsp ground cinnamon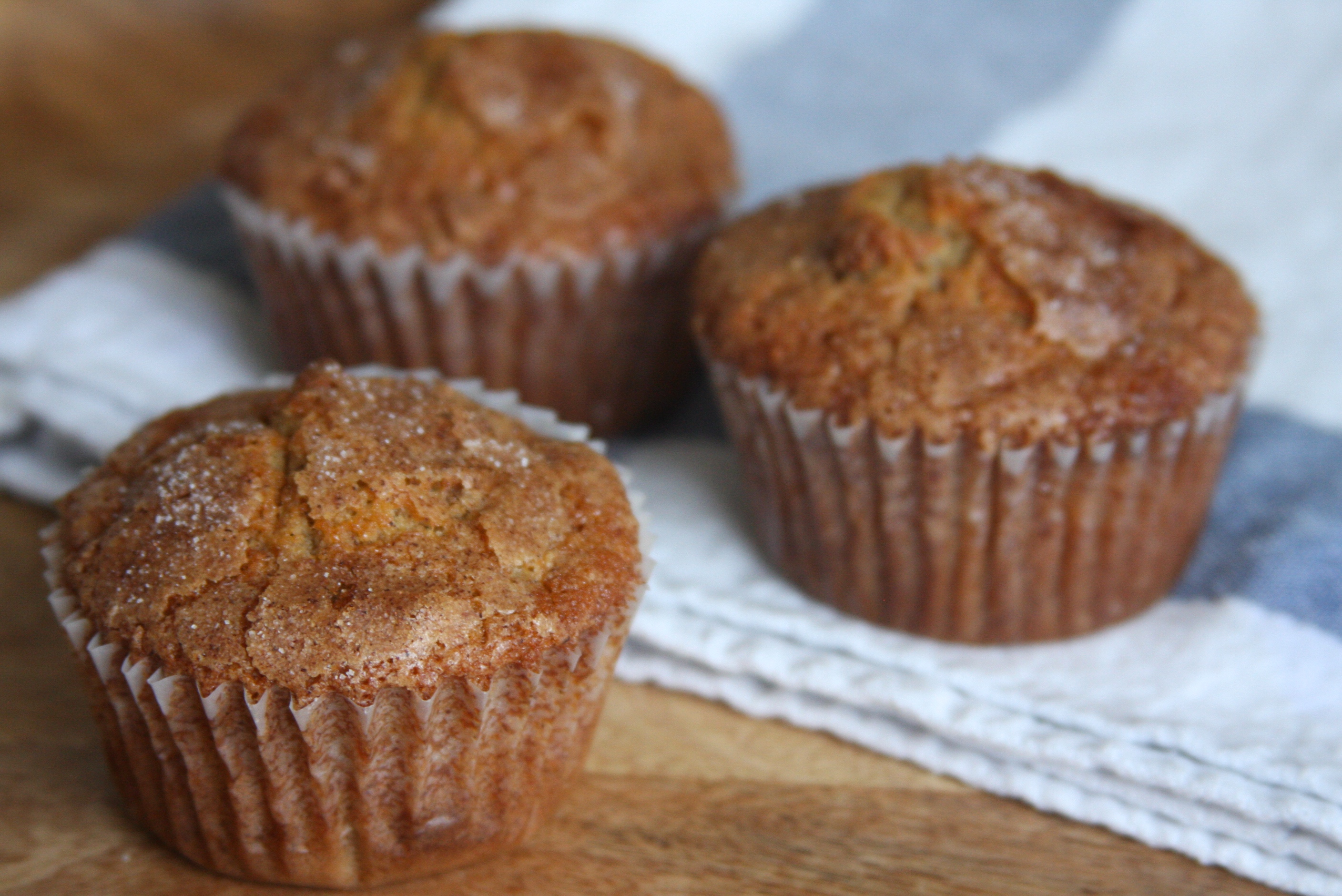 DIRECTIONS
1. First, preheat your oven to 400 deg F, and line a standard sized muffin pan with 12 paper liners. In a medium sized bowl, sift together the flour, baking powder, baking soda, salt, ground cinnamon, ground allspice and nutmeg. Set aside.
2. In your electric mixer bowl, whisk together the eggs and the brown sugar, then slowly begin pouring in the melted butter, and mix until you have a smooth mixture. Add in the vanilla extract and applesauce, then begin adding in the dry ingredient mixture. Gently fold in the chopped nuts (you could substitute raisins for chopped nuts, those would work well too!) and then divide the batter equally between the 12 muffin cups (you want them to be about 3/4 full). Sprinkle the tops with the cinnamon sugar topping mixture (this will form a thin "crust" on top of the muffins as they bake), then bake the muffins for 18 – 20 minutes, or until an inserted toothpick comes out clean. Once baked, let the muffins cool for a couple minutes before eating.
I hope you all have a wonderful rest of your weekend, and enjoy this recipe if you try it out!